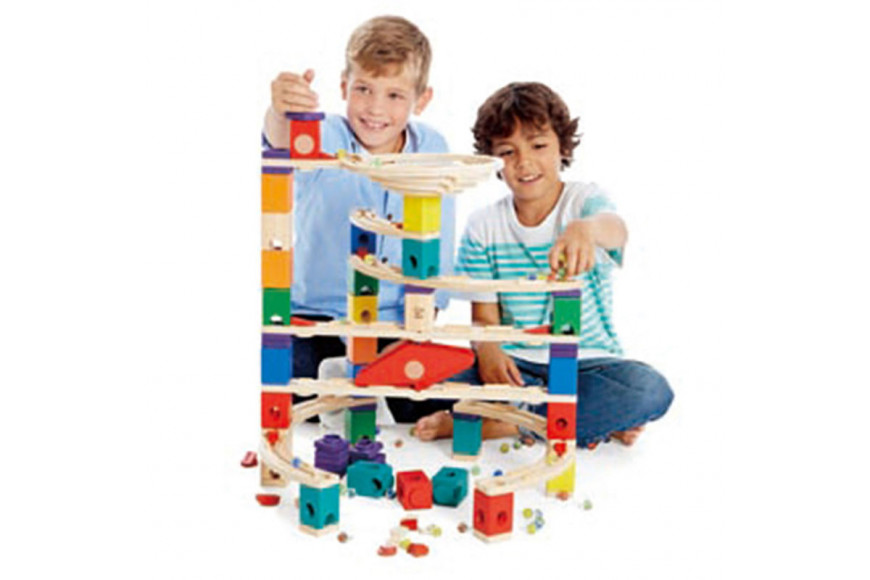 We've been in the toys and therapy business for a while now and while we have our children have grown. As is natural, many toys that my kids were interested in a few years ago have been outgrown. Such is the nature of all toys their baby toys, rattles, simple puzzles and such are no longer of interest and have found their way to friends with smaller children or as garage sale fodder.
But a great example of a toy that has stood the test of time is the marble run. While our store sells several, the ones that work the best are our wooden marble runs that are interchangeable with different themes and sets. Much like Lego different kits can be combined to form very long or elaborate marble runs as your children grow and become more creative the sets can grow with them.
There something fun and calming about building a marble run. My son uses it currently to unwind after school, it's also a great opportunity for his sister and him to use co-operative play and work together to make a structure. Building it develops motor skills, even the act of dropping the marbles into the top receptor as they try to get as many as they can into the opening to have many marbles going at the same time develops eye / hand coordination.
Even the simplest sets can have several different structures; in fact the starter set we originally gave to our son had instructions to make 12 different structures, a few my son knows well so much so that he can make them with his eyes closed. The other wonderful thing is once created the beautiful sound of the clunk of the marbles on the run as they drop from level to level I find to be very soothing. It's no wonder that my son and daughter can still play with their marble runs for long periods of time just listening to the steady light thump of a series of marbles three years later.
I encourage any parent with a child with Autism, ADHD or other special needs to try a marble run. Like a board game it's also a great way to get the family to play together and get away from technology for a good half an hour a day. We added the roundabout after the first while when we say how much are son enjoyed playing with his starter set.
I am a firm believer that buying a quality toy or game is the best course of action. Not only will your child play with in longer and more often a toy like the marble run that is meant to last may one day be used by your children's children.
Malcolm Willins
Kaydan Sensory Solutions